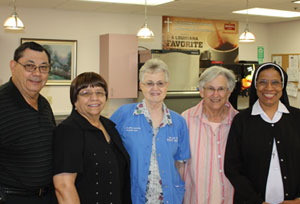 Our founder, Father Moreau, knew that we could not fulfill this God-given work alone. The collaboration, prayers, and support of others are essential to the mission. We invite you to join us in our work through your remembrance of us in your prayers. In addition, we ask you to consider supporting us through your time and talents.
Volunteers
The generous gift of time and love is an essential part of what makes us unique. Our volunteers are deeply committed to warm our residents' hearts through their smiles, companionship and the sharing of their talents. If you would like to join us in help make a positive difference in people's lives, please contact our receptionist, Karen Courville, at 337.948.3634.
Donations
We are most grateful for financial contributions. Your gift helps us to continue providing the outstanding care and life enrichment programs for each of our residents in a caring and nurturing Christian environment. We welcome all donations and donations are tax deductible. You can give a gift that is unrestricted or you can designate the gift to a project, or certain area of the facility, such as the maintenance of our gardens. For more information, please call Sr. Mary Kay Kinberger at 337.948.3634, extension 227.
Planned Giving
You can create a legacy of support for the mission of the Marianites of Holy Cross at our facilities in Opelousas through a planned gift. A planned gift may be an inclusion in your will, an amount in a life insurance policy, or other arrangement. To learn more regarding these options, please contact Michael Purser at 337-948-3634, extension 211.