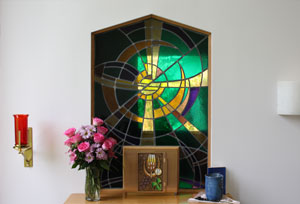 A Prayerful Remembrance of our Deceased Residents
Pastoral care has a rich tradition in the Catholic Church and is one of the most significant ways we can continue the ministry and mission of Jesus. At the center of life at Prompt Succor is our chapel, where Mass is celebrated daily and the Sacrament of Reconciliation and Sacrament of the Sick are offered frequently and upon request. Mass may be offered for special intentions. For more information, contact Sr. Charlotte LeBoeuf in our pastoral care department.
We provide spiritual support to people of all faiths and coordinate visits from outside clergy as desired by the resident and family members. Our on-site pastoral care staff touches each resident through companionship, compassion, prayer, and support.