The Nursing facility as well as the staff is wonderful! They have exceeded the family's expectations, always going above and beyond to see to mother's comfort. Of course, most people are quick to write on the negative feedback but all too often on the positive feedback is never expressed. In the interest of time and space I will not list every single time the staff has exceeded our expectation; however, I write on the most recent and profound expression of love and compassion that represents the caliber of your staff.
On January 20th my sister passed away suddenly and unexpectedly. I went to tell the staff prior to telling my mother that she had died in her sleep. The response that I received was overwhelming.
We were given hospitality, which was appreciated and showed a heartfelt symbol of their love and support. One of the Sisters also came and stayed with mother and provided her with unending support, prayers and comfort.
I look back to my fears and uncertainty when my mother spent the first night at Prompt Succor Nursing Home. I was skeptical and fearful of what types of care my mother would receive. The staff proved to me early on that they would remain ever vigilant of my mother, and always keep me informed of all changes in her mental and physical condition. Their genuine care has afforded me the peace of mind that I can trust they would provide excellent care for my mother, which in turn affords me the luxury of being able to rest at night without worries.
Want to thank y'all so much for taking care of mom. Her stay there wasn't good at first because she didn't want to go anywhere. But she loved it after a couple of days, and she loved her nurses & all of the staff.
Love yall. Again, thank you.
To the entire staff of Our Lady of Prompt Succor Nursing Facility,
We are grateful for many kindnesses you showed us…
And we appreciate each and every one of you.
Thank you, all of you have been such a special part of my life and my husbands.
My family and I would like to thank all of you for the wonderful care and attention you gave to our mother. Please express our sincerest thanks to all of the Nurses, CNAs, Rehab Staff, Culinary staff, Housekeeping and Maintenance personnel.
We understand that your jobs are at times challenging when taking care of someone with dementia, and we appreciate how kind, patient, and helping you were.
Mom was able to adjust to her new surroundings and was very comfortable in her room.
Because we know she is in good hands and is well taken care of, our stress level was lessened. We know we selected the right facility.
Again, thank you for taking such great care of our mother.
Dear our Lady of Prompt Succor Nursing Facility,
My father was a patient at your facility and passed away in April, 2019. I am writing to thank everyone for your kindness and the wonderful care you gave my father. My father loved being there and he always said everyone was so nice. We miss Daddy and with time our hearts will heal. Please pray for us as we adjust to life without Daddy. Thank you so kindly for your gracious care to our daddy.
Dear Administrators,
We are the nieces of a Marianite Sister, and recently toured the facility with our aunt when we visited her. This was not our first time at Prompt Succor but we got to see the wonderful new additions.
Each of us has, in some capacity, either visiting family or friends, serving as Eucharistic Ministers or leading a prayer service, been in many nursing homes, private care facilities and hospitals but none of us had ever been in a facility as clean and peaceful and well run as is Our Lady of Prompt Succor in Opelousas.
Perhaps it is because you are all God-centered, and see the work you do as ministry rather than "just a job". Perhaps it is because there is so much kindness & compassion within your walls that God's peace settles in and fills the place.
We want to commend you ALL, Marianites, volunteers, administration, doctors, nurses, aides, kitchen, to the people who clean bathrooms, empty garbage, grounds keepers; yours is a ministry well served & very well done! You have every reason to be proud of the beautiful work you do daily; something beautiful for God.
My mother was a resident at your facility from November 2015 to May 2017.
I can remember the first day that we arrived at Prompt Succor very clearly. Both mom and I were scared of the unknown and I am sure that everyone knew this by our sad faces. My mom had been living with me for the past 7 years, and it was a very hard decision to make. My mom had fallen, and was no longer able to walk or take care of herself. I checked out all the nursing homes in the area and I decided on Prompt Succor. It was the best decision I ever made about Mom's care.
In the year and a-half that we were at Prompt Succor, we met many staff members; from administration, nurses and CNA's, housekeeping, laundry and maintenance, dietary, physical therapists, medical Records, social services, pastoral care, physicians, nursing supervisors, and last but not least, the wonderful Marianites of the Holy Cross.
The care and compassion of your staff is excellent and every day and night when I left my mom's room, I knew that she would be taken care of by each and every one of them. She would tell some of them that they could move to sunset with her and they would not be guests; but part of the family. She was always asking the staff when they were going home with her. I always knew if my mother was waving or blowing kisses because as I walked down the hall, the staff and sisters were either blowing kisses or waving to her as they passed down the hall. She loved their company, and most of all loved them.
The Marianites of Holy Cross were so wonderful to my mom. They took time each day to visit her, bring her treats, bring her communion and pray with her. My mom really enjoyed when they took time to watch Lawrence Welk, Family Feud and Let's Make a Deal. I don't think that a single day goes by that I don't remember to pray for them and to thank them for all the happiness that they brought to my mom during the final months of her life. I will be eternally thankful to them.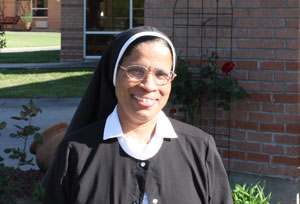 I would like to thank you and your staff for making this Thanksgiving special for my sister and me. We were able to have a good visit and a wonderful meal. The cooks did a super job. Please express to them how much we enjoyed the meal, ate too much as usual, and the staff who helped serve.
I know dealing with seniors can be challenging, but your facility does an outstanding job. The staff is always polite and helpful.
Thanks for everything,
My surgery was very difficult for me. I came to PSNH depressed and scared and I grew through this experience. The Sisters helped me to see God and feel his presence with me each day. The physical therapists encouraged me and gently pushed me beyond my fears. With their help, I am ahead of schedule and leaving earlier than I expected. I made new friends. I had new experiences in social activities. I loved having mass and access to the chapel.
For me, PSNH is better than a family because family members have their own responsibilities and cannot focus on your healing and your needs. Here, all the staff are focused on getting you better and stronger. This is a comfortable, friendly, prayerful place and because of the care I received, I am completely healed in body, mind and spirit. I am leaving very happy and encouraged about my future.
I hope the residents enjoy and appreciate the blessings they have here at PSNH.
I will keep everyone in my prayers and I pray that God be with all of you each day of your lives!